Tiane Tenui is a bag brand that recognizes the importance of longevity, the nuances of elegance and the power of our feelings around purchasing something so special,  and individual. There are only ever two bags made from the same materials and colour, ensuring an authentic bespoke experience for each client. Christiane Smit – the mind and hand behind 'Tiane Tenui – believes nike erp implementation case study pdf each bag should become a part of her clients daily lives, telling a personal story through the marks and impressions left over time.
Before taking an order, she sends each client small leather samples so that they may experience the feeling and actual color of the leather, thus becoming a part of the creation process. The technique of hand stitching she is using is borrowed from the shoe and saddle making trades. This is really at the core of what defines her craft. As Christiane explained :  "Each stitch is formed by hand with nothing more than an awl, one needle and a length of waxed linen.
Very few companies can invest the time necessary to hand stitch their items, but the strength and resilience of hand stitching far exceeds the machine made equivalent. Trend Tablet caught up with Christiane for an interview. When did this new adventure started? While I was occupied in former occupations I discovered my talent in creating bags and at the same time I was exploring my style. Just before I came to Greece, I created my first hand stitched leather bag. Since I moved to Paros, taking Art History classes, I developed through working with leather my technique in hand stitching. I am working and living between Amsterdam and the island of Paros.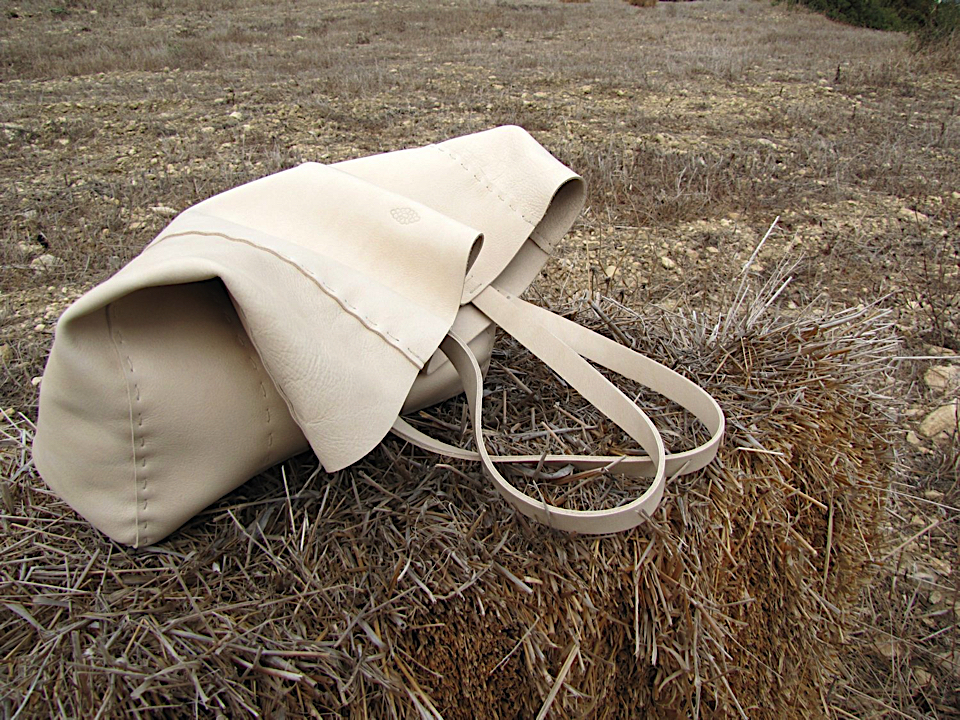 It was my love for soft though strong colors, structures of fine textiles, simple shapes, quality and unique and rare pieces of art, clothes and objects of nature and my passion for creation that through my former experiences and education gave life to a dream. I create customized bags that correspond to my standards for "Refined Simplicity" and high quality. That highlights femininity and serve the needs of contemporary women. How to do you create your bags ? I work by listening to my heart and selecting colors of leathers listening to my feelings.
Creating my own trend but classic and durable choosing colors and qualities that lasts and which are not subjected by trends! Buying qualities from Spain, Italy and Portugal and Holland. Advising the client by choosing the model and color living up to her needs sometimes corresponding up to 30 mails! How do you see your future? There are incredible markets around the world and then there is the International Folk Art Market in Santa Fe, New Mexico, an event that has been happening every July in Museum Hill since 2004. Named the face of peace and the number one arts festival in the US by USA Today, this is the biggest global gathering of its kind. The market starts with a parade of the artists welcomed by the city of Santa Fe as they gather in the main plaza welcomed by a Cuban live band.
Li Edelkoort, the honorary chair for 2017 and Keith Recker, the creative director, read the names of each country and cried when Syria was called. Kavita Parmar from IOU Project was a first time participant in Innovation Inspiration, a special exhibition area featuring works by 30 artists who are reinterpreting time-honored materials and techniques into innovative works that express new meaning in the modern age. I have had the opportunity as a designer to present my work in many shows and fairs around the globe including fashion capitals like Paris, New York, Florence, Milan etc. Porfirio Gutierrez from Oaxaca who participated in 2013 and 2017 says this is a unique show because it caters to people who know and appreciate folk art. To be accepted means to receive a special recognition and be the beneficiary of all the knowledge and care by a pull of top specialists in different areas such as branding, entrepreneurship, marketing etc. Porfirio was very proud to be chosen as a mentor this year, helping first time artisans to get around.
Somporn Intaraprayong from Thailand, represented by Chinalai, has participated 8 times at the market. Her booth is the first stop of any serious textile collector and one of the first to sell out. This year she was invited as a panelist where she spoke from the heart about her community of seamstresses and sewers who use stitches to tell stories of the rice fields and their daily lives. Olga Reiche from Guatemala has been to the market 8 times representing pik'bil textiles from the Queckchi ethnic group of Coban. These lace type textiles were nearly extinct with all the Chinese imports. Olga, the daughter of a German and an indigenous woman from Coban, remembers visiting her grandmother and being mesmerized by her silver jewelry and intricate white lace dress made using one thread hand spun cotton, back strap loom and white on white. The Santa Fe Folk Art Market is a community of ideals around sustainability, entrepreneurship, empowerment, diversity, well being and cultural preservation.
Artists go home with 90 per cent of the sales. For both consumers and artists, the most positive path to the future is handmade. Marcella Echavarria is a Colombian-born, Mexico City based lifestyle specialist. She collaborates with designers and artisans around the world developing links that connect local knowledge with global trends. Her specialty is branding luxury and sustainability in a way that preserves cultures and traditions. Collectivo 1050 Grados, a collective of Mexican potters, makes modern forms using traditional methods and finishes.
Left: Densely stitched indigo textiles by Thailand's Somporn Intaraprayong  Right: Li Edelkoort shopping at Somporn's stand. Generously scaled Thai tribal silver jewelry was included among the textiles at Somporn Intaraprayong's stand. Detail of a hooked rug made from recycled clothing by Cooperative de las Alfombras de Mujeres Mayas de Guatemala, a group of over 60 indigenous women adapting motifs from their traditional clothing into a vibrant new art form. Detail of the recycled running stitch quilts of India's Siddi Quilters, an African diaspora group whose work combines Indian and ancestral influences. Naturally dyed silks by Somporn Intaraprayong. Peruvian textile artist, author, and community organizer Nilda Callanaupa demonstrating the basics of hand spinning the Incan way.
Nepalese carpet weaver Sandeep Pokhrel shows off the lush tactility of his work. Kyrgyz felter Fariza Sheisheye stands in front of a massive, masterful felt carpet that sold moments after the opening bell. Details of jackets and tunics from the workshop of Uzbek ikat master Fazlitdin Dadajonov, who learned his skills from his father and grandfather. The sisal-beaded edges of Tintsaba baskets from a women's cooperative in Swaziland. Rushana Burkhanova sits atop a luxuriant pile of intricate Uzbek rugs from the Bukhara Carpet Weaving School.
Left: an embroidery artist from Qasab Kutch, whose revival of 19th century clothing motifs produced some of the loveliest textiles of the 2017 market. Stitch by Stitch founded by designer Graham Hollick is run by Graham and Karen Sear Shimali. They work with embroiderers and textile artisans in Gujarat, India to create hand crafted contemporary textiles for the home. After several life-changing trips to India, Graham admits to feeling as though he must have lived in India in a past life. One of the things that really excites me about India, is the visibility of craftsmanship everywhere you go: statue makers, weavers, kite makerspeople who paint rickshaws!